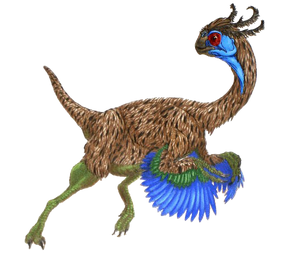 Khaan (/ˈkɑːn/; Mongol [χaːŋ] 'lord') was an oviraptorid dinosaur that was found in the Djadochta Formation of Mongolia and lived in the Late Cretaceous Period (Campanian), 75 million years ago.
Discovery
The type species Khaan mckennai was in 2001 named by James M. Clark e.a. The genus name is derived from Mongol khaan, "lord" or "ruler". The specific name honours the paleontologist Malcolm Carnegie McKenna.
The holotype IGM 100/1127, consists of an almost complete skeleton found together with another specimen, IGM 100/1002. Together they were informally referred to as "Romeo and Juliet". These individuals are about four feet long. A third, considerably larger, specimen, IGM 100/973, was referred to the species.
Community content is available under
CC-BY-SA
unless otherwise noted.